04-13-2021, 08:16 PM
Registered Member





Join Date: Jan 2019

Location: Unites States

Posts: 2,339
Re: Trinitarians Who Baptize in Jesus Name
---
Quote:
Originally Posted by
Michael The Disciple

I believe and teach Jesus is God. Do you have a problem with the 3 times Paul says God created all things by his Son?
Hebrews 1:1-2 KJV
S
[1] God, who at sundry times and in divers manners spake in time past unto the fathers by the prophets, [2] Hath in these last days spoken unto us by his Son, whom he hath appointed heir of all things,
by whom also he made the worlds.
Col. 1:16
15Who is the image of the invisible God, the firstborn of every creature:
16For by him were all things created
, that are in heaven, and that are in earth, visible and invisible, whether they be thrones, or dominions, or principalities, or powers:
all things were created by him,
and for him:
I have no problem with that. You and I are in agreement we both believe there is no separation between the father and son.
__________________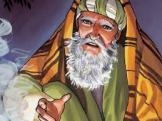 ""The Government of The United States is NOT, in ANY sense, founded on the CHRISTIAN religion". - Founding Father -John Adams